Zendaya was shaking two days ago after her Emmy win for her role as Rue in the hit HBO show Euphoria, making history at 24 years old as the youngest person in Emmy Award history to win in the category for "Outstanding Lead Actress in a Drama Series."
While the Emmys were held remotely this year, taking a toll on viewership, that didn't stop any of the winners from screaming in excitement. Zendaya, dressed in a grand poofy polka-dotted skirt and a bejeweled bralette, and her family and friends were there with her erupting all around the room in enthusiasm and happiness for the win. "I just wanna say thank you to the TV academy, to all the other incredible women in this category. I admire you all so much. This is—whoah—this is pretty crazy," she finally managed to say after taking a second to catch her breath.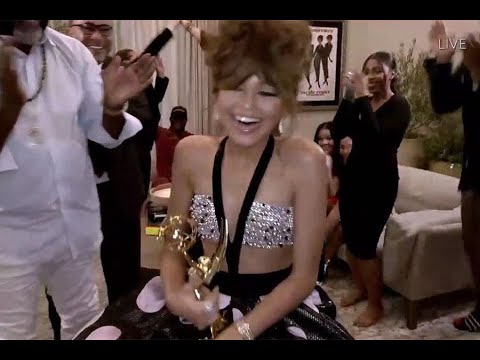 She continued to thank HBO, A24, her family and team, and the cast and crew of Euphoria. "I'm so lucky to go to work with you everyday and I'm inspired by everything you do," she said.
The show Euphoria is centered around young adults in high school, dealing with issues such as depression, anxiety, drug abuse, rehabilitation, domestic and sexual abuse, and gender identity. The main character Rue, played by Zendaya, struggles with drug addiction and depression, often seen removed and muted from her peers until she befriends the new girl in town, Jules, played by Hunter Schafer.
While the show has been accounted as triggering at times by viewers, Zendaya acknowledged that in her winning speech. "There is hope in the young people. I know that our TV show doesn't always feel like a great example of that, but there is hope in the young people," she said.
Other nominees for the category were Laura Linney for Ozark, both Jodie Comer and Sandra Oh for Killing Eve, Olivia Coleman for The Crown, and Jennifer Anniston for The Morning Show.